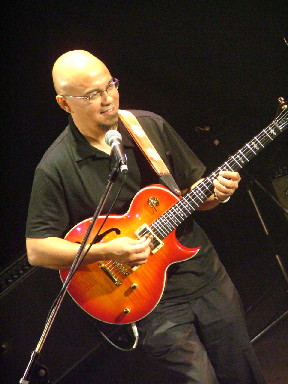 Bon Lozaga, guitarist and founding member of Gongzilla, joined PM's GONG on the Expresso II album when Stomu Yamashta (Island Records) heard one of his demo tapes and referred him to the group's manager. Bon recorded four records and toured extensively throughout Europe and America with the band. In 1993 Bon regrouped with GONG bassist Hansford Rowe and formed BON, his first solo project, and recorded Full Circle/Coming Home and To the Bone for LoLo Records. Their association continues in the monster group Gongzilla (featuring guests such as Allan Holdsworth, David Torn, David Fiuczynski, and recently Chuck Garvey and Jim Loughlin of moe.). Gongzilla continues touring in the US, Canada, Japan and Europe.
Bon has had the good fortune to work and record with some of the most talented and innovative musicians in the world. The list includes Eddie Jobson (UK, Zappa), Percy Jones (Brand X), Mark Craney (Jethro Tull, Jean-Luc Ponty), Gary Husband (John McLaughlin) and Happy Rhodes just to name a few.
Tiny Boxes - Bon's current project!