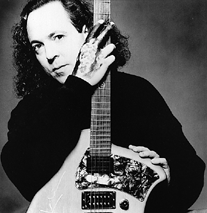 Click on the CDs for more Torn...
Guitarist David Torn has been re-ordering the edges of rock, jazz & alien world music ever since he heard Hendrix's "burning wall of voodoo". His sonic pioneering uses a rock sound, minus the usual constraints indeed. In 1994, he was lauded as "Best Experimental Guitarist" by Guitar Player Magazine Reader's Poll. In 1979, David joined the Everyman Band (Lou Reed's recording/touring outfit) on an international tour with Don Cherry. The Everyman Band made two influential recordings for ECM, which led to David's first record as a leader, Best Laid Plans. This release brought his playing to the attention of Norwegian saxophone luminary, Jan Garbarek, with whom David recorded & toured throughout the mid-eighties.
1987 saw David form his own band Cloud About Mercury with Mick Karn, Bill Bruford & Mark Isham. He has produced Bruford's All Heaven Broke Loose, as well as Karn's Bestial Cluster (CMP 1002). He composed for the Grammy-winning CD Mark Isham and is the featured soloist/texturalist on many film scores including 'Short Cuts', 'Reversal Of Fortune', 'Storyville' or 'Kalifornia'.
David's commitment to pushing musical technology to its limits has led to consultancies and endorsements with leading-edge companies like Lexicon Corp., Klein Custom Guitars & Rivera R & D. He is active in "new media", having released an acclaimed CD-ROM of soundscapes, and an instructional video aptly entitled Painting with Guitar.
He is a co-conspirator with Terry Bozzio & Mick Karn in the anti-cliché power trio Polytown, of whom Downbeat Magazine said, "With his loops and sheer psychedelic abandon, (Torn) is able to create dense textures, screaming intervallic leaps & dark-hued washes of sound that are as ingenious as the are impossible to imitate."
Natural development has led to his exploration of solo recording/ performance: Tripping Over God was David's first foray into this territory. He followed with the acclaimed CD what means solid, traveller?
Torn's work with the monster group Gongzilla on their release, Thrive (LoLo 010), takes the electric guitar to previously unimagined dimensions.