Project Lo




Dabblings in Darkness
LoLo 004

An instrumental blend of acoustic jazz and electronic music from Bon Lozaga .
With Percy Jones , Gerald Veasley , Bobby Thomas Jr. , Caryn Lin and Pierre Moerlen .

"...fully realized moodscapes." - JazzTimes

 4 stars! - Guitar Shop
Black Canvas
LoLo 008

The latest dabblings from Bon Lozaga in his mood meister mode.
Surprises include the sublime vocals of Happy Rhodes .

With Chris Farr (sax), Percy Jones (bass), and Caryn Lin (violin).

"Easily the most absorbing album in this month´s crop, Project Lo's Black Canvas mixes world beat textures and ambient sound akin to art house rockers Brian Eno and Laurie Anderson into a darkly mysterious musical environment. Bon Lozaga adds new dimension to his post modern chamber ensemble with vocalist Happy Rhodes , another avant garde favorite. Her deeply haunting read of Peter Gabriel´s "Mercy Street" holds an even greater feel of mystery and loss than the original. The many layers of Lozaga´s Black Canvas demand full attention, and repeated listenings to take in the whole." - Hilarie Grey  Jazz Times  January 1998
Black Canvas is Project Lo's second release on LoLo Records. Lozaga's elegant acoustic guitar work, combined with ambient textures, flows willingly to form an amorous collection of imperturbable material. Project Lo reveals the collective talents of keyboardist J. Hatch , Brand X bassist Percy Jones , violinist Caryn Lin and the mysterious and captivating cult vocalist Happy Rhodes . "Project Lo began as an outlet for my acoustic guitar," says Lozaga, "I wanted to create an open and less structured project with a more ambient sound incorporating loops and synth." Project Lo is a marriage of atmospheric and avant garde.
On the haunting debut release Dabblings in Darkness , Lozaga created a hermetic sound that included performances by bassist Gerald Veasley , Gong´s Pierre Moerlen and Gongzilla / BON drummer Vic Stevens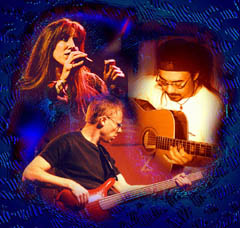 Black Canvas highlights the deep, rich voice of Happy Rhodes , with a hypnotic performance of Peter Gabriel´s, "Mercy Street", and her ritualistic vocalese on Lozaga´s "Perfection". "I have an affinity for Happy´s dark and twisted approach to pop music", says Lozaga. "I've always loved her style and knew she would be perfect for the material." She was also instrumental in arranging the vocals on both of those tracks. The fretless bass of Percy Jones is unmistakable on Your Mind , Tolerance , Acceptance , Transformation and Black Canvas Part II while the whole theme of Black Canvas seems to center around Lozaga´s imaginative guitar lines and the lush sound of violinist Caryn Lin . "I wanted a violinist on the project and I had read an article in the Philadelphia Inquirer about Caryn, says Lozaga, Without even hearing her, I called her to come down and play. She introduced me to a lot of new ideas and she immediately fit right into the project".